Books For Children
Books are a helpful way of allowing children to learn about themselves and others.  Epilepsy New Zealand have published a book called Because You Are My Friend which is available upon request. 
Phone us on 0800 37 45 37 to get a copy sent to you.
Available in English and Maori.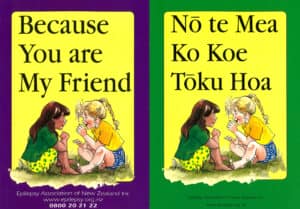 This reading list is filled with books that have been selected as suitable reading for children of all ages.
The books cover a range of subjects related to living with epilepsy, enabling your child, siblings and friends to learn about epilepsy through stories that they can relate to.
If you come across any other books that you think should be included, please let us know!
Milo's Day At School by Shawnee Walker (2017)
Ariana and Jack By Sharon Holt, illustrated by Claudia Gadotti
Ben's Buddies/Nga Hoa o Ben by Sharon Holt, Deborah Hinde, Maria Lowe, Ray Harlow
Sometimes I Get The Wiggles – Be an Epilepsy Seizure Hero by Andee Cooper (2016)
The Adventures of Buzz Bee by Jacqueline Ann Gibson (2015)
Brian learns about epilepsy by Epilepsy Scotland (2014)
The Great Katie Kate Explains Epilepsy by M. Maitland DeLand (2014)
The True Life Adventures of Spunky Monkey, The Magical Poodle by Lauren Michell Ruehring (2012)
Epilepsy Book for Kids by Layla Reid (2012)
Is Epilepsy Contagious? by Julie Devinsky (2011)
My Seizure Dog by Evan Moss
I Know Someone with Epilepsy (Understanding Health Issues) by Vic Parker (2011)
I Have Epilepsy. It Doesn't Have Me by Jamie Bacigalupo and Judy Bacigalupo (2012)
Can I tell you about epilepsy? A guide for friends, family and professionals by Kate Lambert (2012)
Mommy, I Feel Funny! A Child's Experience with Epilepsy by Danielle M. Rocheford (2009)
Being Sara by Christopher Passudetti (2009)
Let's Learn with Teddy about Epilepsy by Dr. Yvonne Zelenka (2008)
Taking Seizure Disorders to School: A Story About Epilepsy (Special Kids in School) by Kim Gosselin (2001)
Becky the Brave: A Story about Epilepsy by Laura Lears (2002)
And Down Went Poss by Anne Little
Lee: The Rabbit with Epilepsy by Deborah M. Moss (1989)
My Mum Has Epilepsy online story
My Dad Has Epilepsy online story
Brian Learns About Epilepsy online story
Farah and Ted Visit the Hospital online story
REASOURCES FOR CHILDREN
Neut The Neuron Colouring In Worksheet
Neut The Neuron Colouring In Worksheet and Poster 
Helping My Buddy Seizure Support Poster