Ensure your school knows how to support students with Epilepsy-Become a seizure smart school.
It is estimated that 1 in 200 students live with epilepsy. Across their career, every Teacher in a New Zealand school will teach at least one child who has Epilepsy.
Epilepsy is so much more than just seizures and the impact on concentration, memory and learning can have lasting effects.
Teachers need seizure specific training
Schools have a duty of care to provide a safe learning environment for all students and ensure they accommodate the needs of all students. The seizure smart schools programme will assist schools to create this environment. 
Epilepsy can have a significant impact on a child's experience at school due to the impact of seizures and any medication they may be taking, making it hard for a child to concentrate or remember information from class. The stigma and discrimination still felt by many living with epilepsy today can also contribute to these difficulties. There are over 40 types of epilepsy and as every child's experience of epilepsy is different, supporting them at school will require an individualised approach.
Teachers need to understand the impact of epilepsy on student learning, as well as having epilepsy-specific training in understanding and managing epilepsy.
By becoming a seizure smart school, you can demonstrate that your school has a supportive and inclusive learning environment.
The learning module is called New Zealand introduction to Epilepsy for Educators.
This 1-hour course will provide teachers with the underpinning knowledge required to support students living with epilepsy.  
There are 13 sections within the module to complete plus the quiz, additional resources that are available to download and a short feedback summary.
Once the module has been completed, your school will receive a certificate that they can display meaning they are a seizure smart school, along with a logo that you will be able to use on your letterhead, website, and other promotional collateral.
Using the programme developed in Australia and having customized this for a New Zealand Audience, Epilepsy New Zealand have launched a successful pilot  pilot throughout schools in New Zealand that  enabled teachers and other educators to undertake the learning free of charge in order to become a seizure smart school.The course is valued at $70 PP.
The pilot has been hugely successful, with so many schools registering and completing the training and great feedback received on the training. A big thanks to all the schools who took part.
We now have a number of schools on a waitlist  to do the training once the wider rollout commences in early 2023. To enable the training to be accessible for all schools nationwide we need to find funding to help subsidise schools that may need extra support ,so they can offer this training as part of their Professional learning development and induction for new staff.
We also want to develop further resources and other learning modules to add to the programme.
Your donation will help us reach more schools in New Zealand and support more kids like Taylor.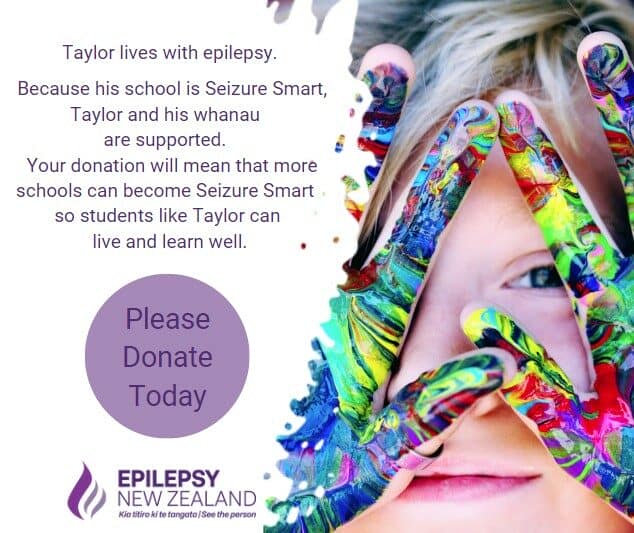 If you would like to become a seizure smart school, please contact us on the e mail below to go on the waitlist .
Resources for Teachers  
Booklet – Children With Epilepsy
Checklist for Parents (Starting or moving schools?)
Learning Conversations (Epilepsy and its possible impacts on learning)
Individual Learning Plan (ILP)
Auditory Processing and Epilepsy
Visual Processing and Epilepsy